April 27, 2023, 0 Comments
GPS VEHICLE TRACKING SYSTEMS
GPS vehicle tracking systems is use to keep track of vehicles, bike or fleet trucks to monitor the usage of the vehicles being used properly and that they can be traced, tracked and shut-down in the case of an emergency or an unusual movement by the driver.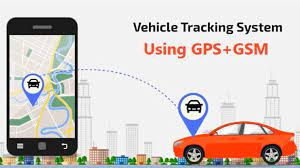 https://photos.google.com/share/AF1QipOotj4EM-f8Dpmf49scheWQ_RdovdT4f3f8VgZsM_EsQCemE_tjz2d9wfo7p5QVhw/photo/AF1QipOY2GRgl41oexhC3R4Np6hlPufeoPutjvdODrZO?key=SkFya3hoVFdxdGNHNTlNd3Vyb25vWHNFMm5FV0Jn
How is vehicle tracking system done?
This is a device that collect data used in monitoring the location of the vehicle used by corporate offices, transport companies, haulage, taxi business and so on using the GPS system.
This uses Global Positioning Systems (GPS satellites) in other to know the vehicle location at all times. The information that is gathered from the vehicle is then stored on the device installed. The data is then transmitted by using a wireless, or cellular network through the network providers that was use. This also use satellite navigation data to make provision for real-time tracking about the vehicle locations, distance and speed. Benefits to this vehicle tracking include theft recovery, fuel monitoring and driver safety.
Which side is the GPS tracker installed?
GPS vehicle tracker can be installed in various places but to make sure is not exposed to harsh connections that can affect the wiring or securities of the vehicle. The best positioning for the installation of the tracker is where the server quality is strong enough to deliver that it can not be tamper with and it is out of sight (hidden).
There is a plaster attached to the tracker which will be used to hold the device firmly or Velcro tape to prevent it from falling off and most importantly to keep it away from heat.
In Summary, Installation of GPS vehicle tracker is easy and understandable and you can also relate to the tracker guide which is well explained and labelled with diagram to help further. With accurate location details, you will get the movements of your fleets, monitor the drivers behavior and give rest of mind.
LED status
Blue LED— GPS Status
Flashing: No GPS signal or GPS just starting
ON: GPS OK
Orange LED- GSM status
Flashing: No SIM card or GSM just starting
ON: GSM OK
The default password for all tracker is: 0000
The default mode is normal working (ACC Mode).
GPS Status: A is get location, V is an invalid location.
The alarm mode is on.
The alarm will send to the 3 control number.
Battery 5 is 100%, 1 is 20%; the battery is from 1 to 5.
Installation:
1. The GPS antenna side should always face towards to clear sky.
(it can not be put under Metal, but Glass and Plastic is ok)
2. Carefully connect the wires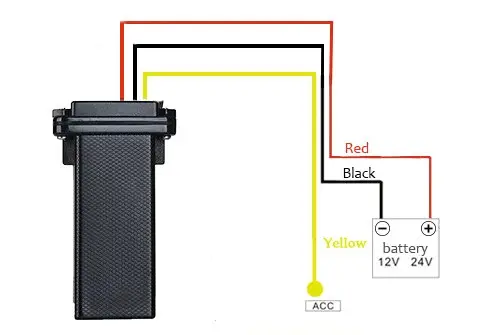 GPS vehicle tracker Functions:
Set control number
Working mode: This is to control it by mobile and use SMS only, you can get Google location from your mobile to show the current location of the vehicle Or monitor the tracker online in real-time using an IP address that will be provided or a mobile app.
Change Password: You can change it from default to a preferred one.
You can get a location with Goggle link.
You can get a location by phone call.
Eligible to change Time Zone.
Geo-Fence.
Over-speed alert can be set: the alarm will send to the control number set on the tracker.
Mileage can be set.
Low battery alert.
APN can be set.
Set the Real-time tracker interval and minimum for this is 5 seconds.
Disarm the vehicle in the case of an emergency.
GPS vehicle tracker Features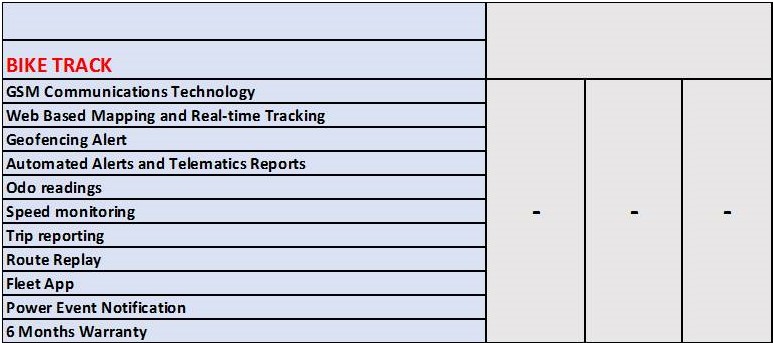 https://photos.google.com/share/AF1QipOotj4EM-f8Dpmf49scheWQ_RdovdT4f3f8VgZsM_EsQCemE_tjz2d9wfo7p5QVhw/photo/AF1QipOY2GRgl41oexhC3R4Np6hlPufeoPutjvdODrZO?key=SkFya3hoVFdxdGNHNTlNd3Vyb25vWHNFMm5FV0Jn